OxyNinja Update 3.4 - Beautiful Icon Packs for Core & WooCore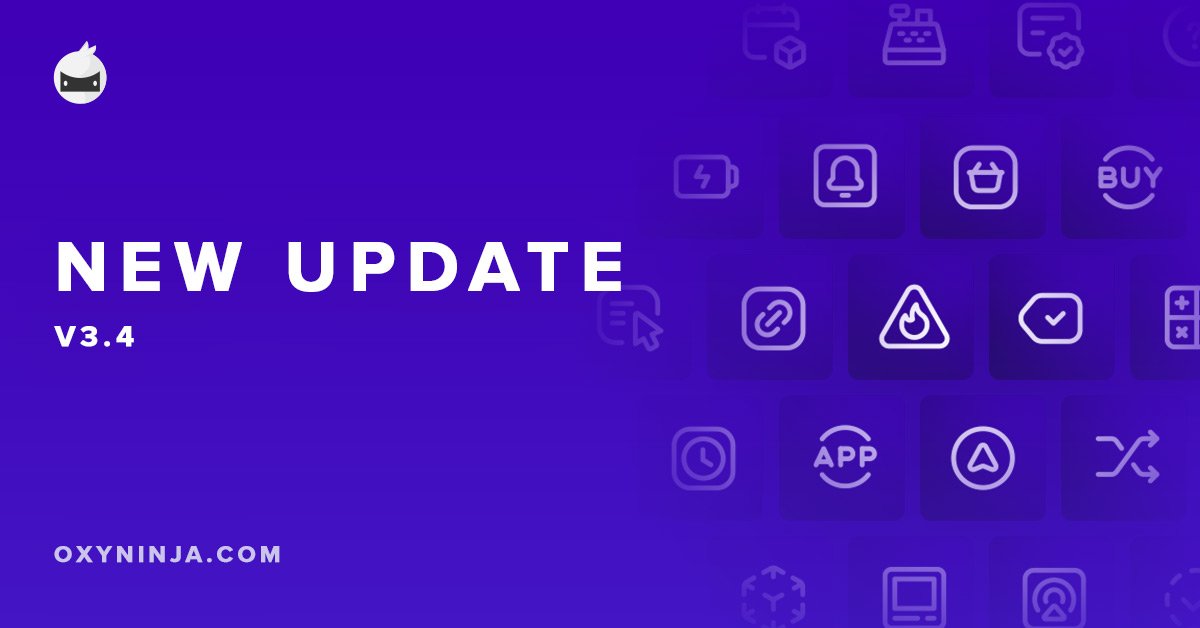 Check out the interactive cheatsheet or print for later!
Cheatsheet
OxyNinja just celebrated 1 year since the launch!
I want to thank everyone who is supporting us since the day one, and everyone else who is with us on this journey! OxyNinja project has been and still is an immense success, and we will continue working hard, improving our offerings and bringing new ideas to the game.
Celebrate with us, and enjoy the new free update, which just arrived to all Core and WooCore sites. The updated version 3.4 brought beautifully designed icon packs with roughly 500 fresh icons to both products.
Core got boosted by its own icon pack with 309 beautiful icons, including all kind of interface based icons and some more specific ones.
WooCore on the other hand includes 180 icons, including e-commerce focused designs of icons, like bunch of different carts, account, shipping, delivery etc.
Oxygen is pretty good at managing SVG icons, so even with hundreds of new icons, they won't load on front end, except the ones that you add to your design.
Why icon packs and how does it work?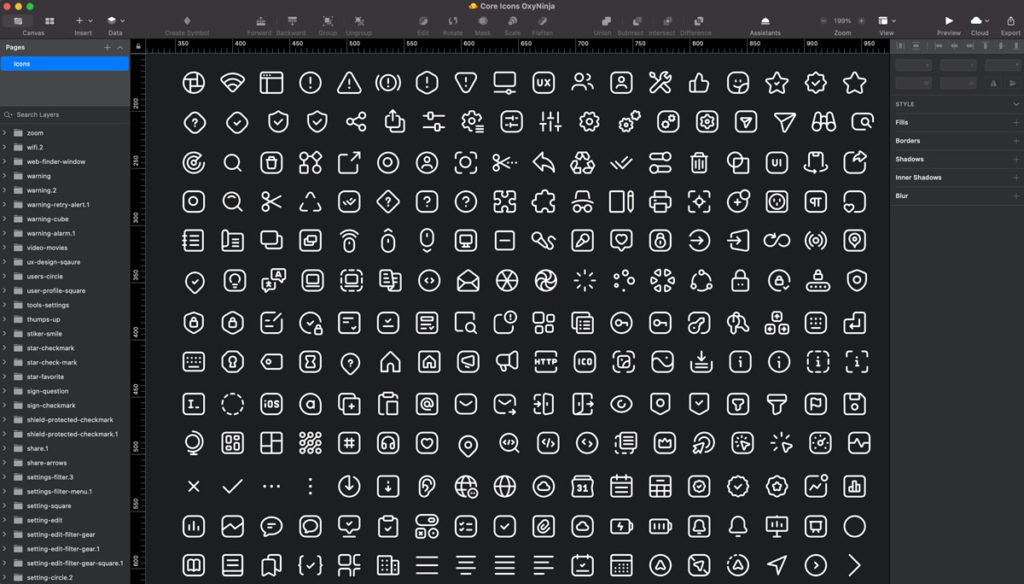 Designing websites almost always require at least several icons, it makes a better UX, and I am sure that you are already tired of those boring and repetitive Font Awesome or Linear icons.
Our products are all about improving the workflow and streamlining the process when developing websites for clients in Oxygen. Searching or designing new icons, formatting them and installing to each site may be a time-consuming task, especially if you want to have a robust set with a consistent style.
Our update adds these new icons to Oxygen Builder out of the box, without having to manually install them, so it's pretty convenient. Just update the OxyNinja plugin to the new version 3.4 and start using them right away.
You can also disable it completely with one click from our new settings panel, if you don't want to load them at all.
Please note, if you update your existing install, you will have to visit this settings panel in order for icons to load (only the first time).
A new panel for settings and managing our features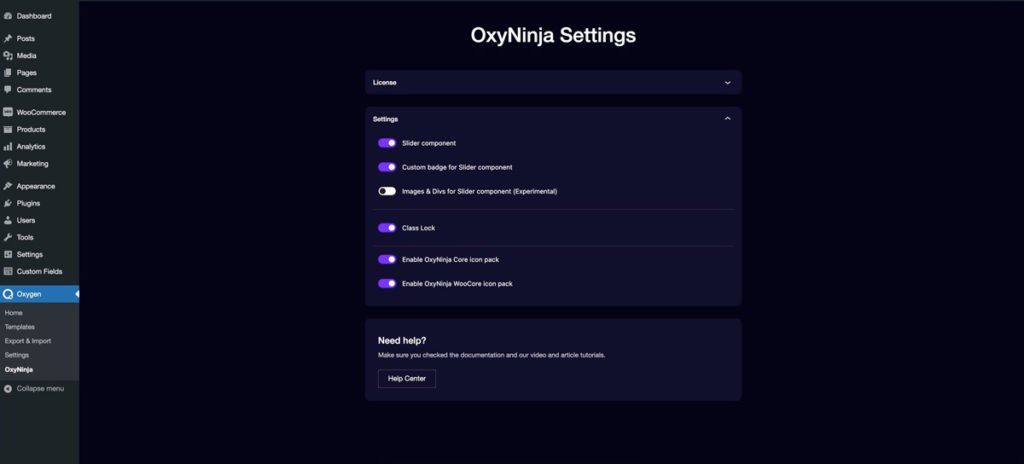 Another part of the 3.4 update introduces the new minimalistic settings panel, which on the important part allows you to manage which features you want to have enabled and which you won't use.
Easily add the license, disable Class Lock, Slider component, icon sets, etc.
You can access the settings panel from WordPress by going to Oxygen > OxyNinja. Previously you had to add the license from Oxygen > Settings > License, while now it's in our panel. We are keeping the license field also in the Oxygen license settings, but will remove it in the next update.
Note: If you disable OxyNinja slider component using the switcher, it will disable loading of Splide.js files, however the slider component will stay visible in the builder, to not trigger errors when you import a WooCore template.
What can you expect next?
A lot of our loyal followers asked about next plans, and while we usually don't uncover any specific plans, nor timelines, I can tell you now, that the next focus will be mainly about new designs.
We will add separate sections & elements to WooCore next (now it includes full pages and templates), new carts to WooCore, new sections to Core focused on a more artistic design, and also new full landing pages and blog templates to Core as well. We will also replace all old icons across our design sets, so they are part of all our designs.
We are about to increase the price in a week, so now it's probably the best time to buy for the best price, if you are not a customer yet.
How to update?
It's always recommended doing a backup, just in case
You can update the plugin directly from your WP dashboard (if you do not see an option to update, check if you added the license key, or revalidate it)
CORE
A popular Core framework & design set made for Oxygen Builder
Purchase Core
Core Documentation
Live Sections
WOOCORE
The biggest WooCommerce design set for Oxygen Builder
Purchase WooCore
WooCore Documentation
Live Demo